Welcome to Flamingo Travel and Motorcycle Tours / Rentals
Welcome! We look forward to meeting you and helping with your motorcycle and travel needs while you are in Vietnam.
For almost 20 years, we have helped visitors and residents all over our beautiful country with personalized:
Short – and long term rentals
Purchases of new and quality second – hand motorbikes from 50 to 1000cc
Guided tours
Self – guided tours
Other travel services from flights to buses to hotels
24/7 telephone support as- needed
With over 300 bikes currently in our inventory, we give you a larger selection – from automatic, semi – automatic, and manual – shift scooters to 150/250/400cc dual – sports – than anyone else in Vietnam. If you are unsure which bike is the best choice for you, our experienced staff of local English / Vietnamese speaking motorcycle enthusiasts will be happy to help you choose.
Our skilled Flamingo Service team has decades of vehicle repair experience and is committed to repairing and replacing with genuine parts to ensure your trip is absolutely safe and as trouble – free as possible. Upon its return to the Flamingo Garage, every bike goes through an exhaustive multi – point inspection with an oil and filter change. Any issues or potential issues are remedied before the bike is again made available for rental.
We currently have three locations (see above for phone numbers):
Hanoi – Flamingo Headquaters – opened in 1998
Ho Chi Minh City (Saigon) – since 2011
Hoi An – our newest family member (August 2017)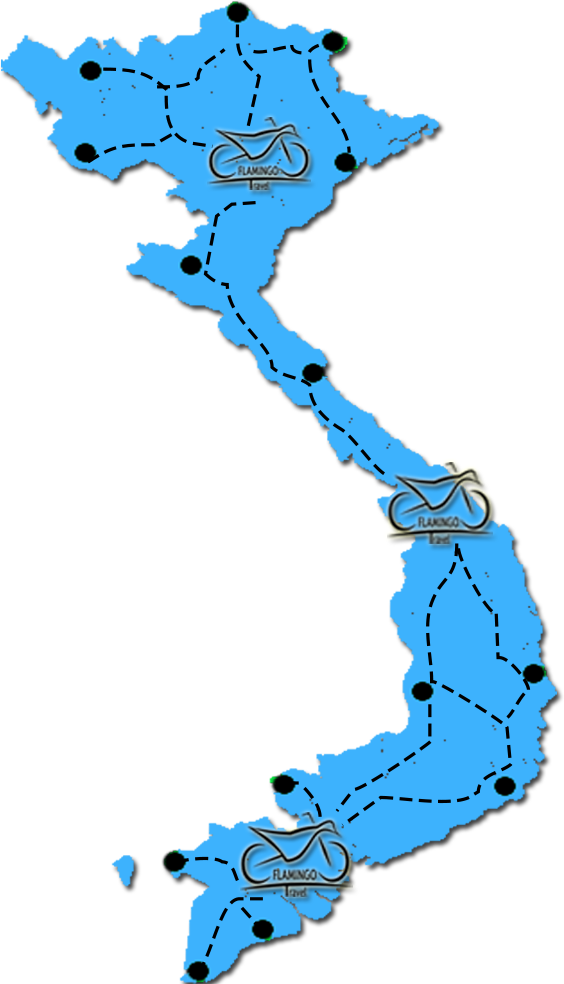 These strategically located offices make it convenient for you to pick – up and return your rentals where and when you choose. Any rental can be round trip or one way – we may not charge a one – way drop fee depended motorcycles available in our offices. If your plans change during the rental period, we are happy to accept the returned bike at any of our locations without an additional fee. Please feel free to contact us for further info at info@flamingotravel.vn
In addition to these three staffed offices, we give you a 24/7 Help Line phone number and have a network of individuals throughout Vietnam who are ready to offer assistance if and when you need it.
Riding in Vietnam is a once – in – a lifetime adventure and there are many hundreds of places you could rent a motorcycle. Let us show you why Flamingo Travel should be your first – and only – choice. We promise to help make your trip fun, safe, easy, and memorable.
Thank you,
Mr Hung and His wife Hai
Owners, Flamingo Travel and Motorcycle Rental
Contact us:
WhatsApp; Viber; iMessage; Zalo using +84.912.214.554
Web site: www.flamingotravel.com.vn
Phone: +84.912.214.554
Email: info@flamingotravel.vn